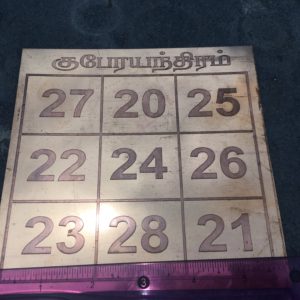 Kubera is the Lord of Wealth (Vitteswara), Owner of the Treasures, God of Fortune.
Kubera Yantra Size: 6″ x 6″
How Many times the Mantra being chanted to energize Kuber Yantra: 72000 times (720 Japas per day for 108 days = 72000 times)
Benefits of Kubera Yantra energized with Kubera mantra:
To attract Money

To accumulate Wealth

To settle loans

To Improve monetary situation

To become Rich

To overcome Debts

To get back the lost asset
Powerful Kubera Mantra: Om Shreem Hreem Kleem Shreem Kleem Yakshaya Kubera Vaishravanaya Vitteshvaraya Namah:
Can the yantra been kept on behalf of me in the poojs: Yes, when you order for the Kuber Yantra, you need to provide Name, Nakshatra, Rasi (If you dont know, you can provide date of birth, time of birth & place of birth), Gothra (if known) and the purpose for which you want the Kuber Yantra. We will include your details with the personal sankalpa while keeping the Yantra in the pooja. It takes minimum 108 days to energize the Kuber Yantra, as we chant the mantra 720 times everyday.
Cost of the Energized Kubera Yantra : Rs.2750 (within India) (approx. Rs. 25 per day)
US$100 (Outside India) (Approx. US$ 1 per day)
Note 1 (a): Many people calling us why we charge more when everyone is charging Rs.900 approx. Please note, The price we quote is inclusive of Pooja cost for 72000 japas. Yantra of 6″ x 6″ size cost Just Rs.250 where as the pooja cost is Rs. 2500 (approx. Rs.25 per day). While if you see the yantras offered by others are just 3″ x 3″ (3 inches) which normally available for Rs.50 but being sold 18 times higher at Rs.900. .It is like buying an unrecorded CD worth Rs.10 for a premium of Rs.180.
Note 1 (b)They are not doing any poojas. They ask you to chant the mantra by yourself for 108 times which is of no use. Their policy is just selling yantras at a huge margin whereas we are more interested in doing poojas on a big way.
Note 2: We are the only one in the world performing bigger poojas (lakhs of japas) for the last 10 years as a service at a very cheap and affordable cost on a sharing basis. Everyday 5-7 brahmins are performing the Poojas. We not only perform the poojas & japas for the last 10 years, but we also show the pooja LIVE everyday thru' Facebook. We also keep a daily sheet calendar to show the date of the pooja to clear the doubts of the customer). You can view the Kubere Pooja being performed for the last 6 months continuously by going to this facebook link Kubera Pooja
You can view the Kubera Pooja eeryday at 7.45 am LIVE thru this facebook page.
Interested, Now read further to know more about how we are performing the Kubera Pooja. (For your queries, clarifications & Help: I feel delighted and my heart is blissful whenever a person write to me or speak to me over phone (my number is Srivathsan @99 44 88 88 86 / 87540 10850 and available always at your service) with their doubts and looking for help. Feel free to call me any time for help.)
Kubera Yantra – Kubera Mantra – Kubera Pooja
(Kubera – The Lord of Wealth (Vitteswara), Owner of the treasures, God of Fortune, and King of Kings).
Kubera Mantra : Most Powerful, trusted mantra to acquire money, accumulate Wealth, to improve profits, to become rich & to settle loans and dues & to get back lost money/wealth.
"Om Shreem Hreem Kleem Shreem Kleem Yakshaya Kuberaya Vaishravanaya Vitteshvaraya Namah: " – Powerful Kubera Mantra:
Please note: We have 2 versions of the kubera mantra (South Indian & North Indian). While North Indian version give more weightage to 3 powerful bheej Mantras (Shreem, Hreem & Kleem), South Indian version uses 3 nama or most popular names of Kubera (Yakshaya, Kuberaya, Vaishravanaya). By combining both, we get the most powerful mantra for ultimate result.
How Many times do we need to chant the mantra to power the Yantra?
72000 times.
"72" is the number associated with the Lord of Wealth, KUBERA. Chanting the above mantra 72000 times will help us to attract money, accumulate Wealth, earn more profits, to get back lost wealth & Money, to become rich and to settle long dues, overcome debts and to clear loans.
We need to chant the kubera Mantra daily 720 times for 108 days totalling 72000.
Kubera Mantra Japa for Kubera Yantra chanted on 14th February 2019

We are streaming the Kubera Japa for Kubera Yantra being performed by us daily @ 7.45 am through our Facebook page: https://www.facebook.com/KuberaMantraPooja/ Kindly like to view the japa dailly.
The cost of the Kubera Mantra Powered Kubera Yantra is
Rs. 2750 (Within India) (Approx. Rs.25 per day)
US$ 100 (Outside India) (Approx. US$ 1 per day)
We request people from outside India to pay US$ 100 thru paypal or western union
How to request for the Kubera Yantra and the payment mode:
Option 1:

You can transfer funds online to ICICI Bank a/c

You can transfer funds online to :

SRIVATHSAN KR

SI

HNASWAMY

– ICICI A/c No.0014 0102 3224 (Branch: Srirangam; IFSC Code: ICIC0006125 and send your details to :

yantra@swayamvaraparvathi.com

alongwith your address)

Option 2:

If you are living outside

India, you can transfer funds through Western Union Money Transfer. (Send your details through email

yantra@swayamvaraparvathi.com

) or paypal or any other legal money transfer modes.

In favour of K.SRIVATHSAN to the following Western Union Agent at Trichy.

Option 3:

You can also send through PAYPAL. Paypal id

:::

srivathsan@swayamvaraparvathi.com



Select from Paypal dropdown menu
Option 4:

You can send a DD/Cheque in favour of

K.SRIVATHSAN

payable at Trichy and can be sent alongwith your required details to our address:
K.SRIVATHSAN, S-3, Bharath Castle, Old EB Office Road, Srirangam, Trichy – 620006. Tamilnadu. Phone: 99 44 88 88 86 / 87540 10850
You can contact me over phone for any help. Srivathsan @ 99 44 88 88 86 / 87540 10850
FAQ (Frequently Asked Question)
More about Kubera
Who is Kubera?
Kubera is an Yaksha (yakshas are good demons or spirit or heavenly king which helps people out of the way.)
He is the guardian of North Direction and Custodian of Wealth.
All the wealth is being distributed by him.
As per Buddhism, Kubera (Vaisravana) is the king of Yakshas.
As per belief, good demons are very helpful to people. They help people out of the way if they are cajoled.
By cajoling the Lord of the wealth, the king of all yakshas with the above mantra, We not only improve our wealth but also gets everything by other good demons.
Legend says, even the God Balaji of Tirupati took loan from Kubera.
Properly cajoled, the generous Kubera can make even a begger a millionaire.
I list few quotes below from great Stotras (verses) which support the kubera, the incharge of Wealth.
Ref 1: Mantra Pushpam (from Taithreeya Aranyakam of Yajur Veda) which usually sung at the end of pooja and Homa (havan), we end it with "Kuberaya Vai Sravanaya Maha rajaya Namah" where we praise the King of Kings to bless us with Wealth.
Ref 2: In the Lakshmi Narayana Kavacham (by Lord Bhairava) in the 5th stanza, we chant "Kubero api dhana adhyaksho dharma raajo yamah smrutaha" which says that Kubera is the president of Wealth and Yama is for Dharma.
Kuber is one of the eight Dikpalas (guardian of the direction) who are collectively called asta-dik palas. He guards North. (the other dikpalas are Yama for the South, Indra for the East, Varuna for the West, Easana for the Northeast, Agni for the Southeast, Vayu for the Northwest, Nairuthi for the Southwest)
Kindly recite this Kubera Gayatri 720 times everyday for 108 days totalling 72000 times to become wealthy and prosperous.
Why should we keep the Yantra while Chanting the Mantra:

By keeping the Yantra while chanting this powerful Mantras, actually we install the God into the Yantra (we are able to save the positive vibration generated while chanting the mantra in the Yantra). Thus the yantra will act like a CD and the Yantra will emit the vibration forever (as long as we maintain the yantra – keeping the yantra in the daily prayers, cleaning it, applying kumkum / chandan /turmeric and praying kubera. )
Difference between Kubera Photo / idol Vs Kubera Yantra:

Photo & idol are for bring back the concentration during prayers. But the Yantra is God himself. In every temple, an Yantra duly powered with proper Yantra for the god is being placed underneath (below the earth) and the idol is placed on top of the Yantra
Small brief about Kubera Mantra: There are 2 version of Kubera Mantra prevailing in India viz, South Indian & North Indian. South India, people follow the homa (or) havan Mantra " Om Yakshaya Kuberaya Vaishravanaya Dhana Dhanyathipataye Dhana Dhanya Samruddhi me Daehi Tapaya Swaha" Whereas in North India, people use Kubera Mantra with 3 powerful Bheej Mantras viz., (i) Shreem – Lakshmi's Bheej Mantra. (ii) Hreem – Bhuvaneswari or Sakthi's Bheej Mantra & (iii) Kleem – Kamaraja Bheeja or Manmatha Bheeja generally associated with Krishna "Om Shreem Hreem Kleem Shreem Kleem Vitteshvaraya Namah:"
We need to combine both the version to get the powerful mantra for ultimate result. . We had taken the powerful Bheej Mantras from North Indian Version and combine with the main content from the South Indian Version (Important Names of Kubera). In south indian version, Dhana Dhanyathipataye is nothing but Vitteswara ( Vitta in Sanskrit means Wealth. Vitteswara = Lord of Wealth Dhana Dhanyathipataye means, Athipathi of Dhanam and Dhanyam = Lord of Wealth. )