Guru Yantra – Jupiter Yantra – Navagraha Yantra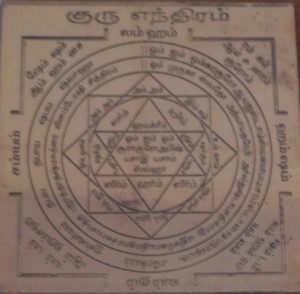 Guru Yantra – Jupiter Yantra – Navagraha Yantra
Guru Maha Mantra Japa
Guru Mahadasa is 16 years. So we need to do anyone of the following Japa 16000 times.
"Om jhram jhreem jroum sah gurave namah" " – Guru Moola Mantra
Om vrishabadhwajaaya vidmahae
kruni hastaaya dheemahi
tanno guru: prachodayaat – Guru Gayatri Maha Mantra
Generally Guru and Shani are the two most powerful Grahas which either make or brake our life in a short span.
We need to do prayers to appease these 2 Grahas either to quietly pass our life without much damage when they are unfavourable to our Rasi (Zodiac) or to reap maximum benefits when they come to a favourable position.
Guru Yantra
If you are not able to do the japa, you can opt for Guru Yantra which is powered 16000 times with Guru Moola Mantra and kept at the feet Guru Bhagwan @ Alangudi and Guru's Athidevatha Brahma's feet @ Tirupattur.
The cost breakup of the Guru Yantra are as follows:
Cost of Copper Yantra                 Rs.30
Cost of Daily Pooja Material    Rs.360
Dakshina (Fees)                        Rs.251
Regd Postage (within India)     Rs. 50
Total Cost                                    Rs.691
How to Pay: You can send a cheque in favour of "K.Srivathsan" (if it id DD, kindly make it payable at Tiruchi) alongwith your name & address to us : K.Srivathsan, S3, Bharath Castle, Old EB Office Road, Srirangam, Tiruchi – 620006. Tamilnadu. for queries : yantra@swayamvaraparvathi.com Phone : 9944888886.
Or You can transfer funds online to : SRIVATHSAN KRSIHNASWAMY – ICICI A/c No.0014 0102 3224 (Branch: Srirangam; IFSC Code: ICIC0006125 and mail your address to yantra@swayamvaraparvathi.com
People from Outside India:
We humbly request you to kindly buy these yantras through your relatives in India and request them to send it to you as not only it will be cheaper for you but also it will be easier for us too.
In case if you don't have any relative in India, then kindly send US$25 for each Yantra through paypal only. Paypal id: Srivathsan@swayamvaraparvathi.com and can mail your address to yantra@swayamvaraparvathi.com