Gayatri Mantra or Gayathri Mantra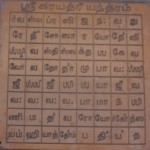 Gāyatrī is considered the veda mata. Gayatri is a Culmination (combination) of Lakshmi, Saraswathi and Parvati Devi. The Gāyatrī Mantra is an ultimate and  highly revered mantra of Hindus which is derived from Rigveda (3.63.10), attibuted to Maharishi Viśvāmitra. It is praised in almost all vedic and Hindu religious texts.
The famous Gayathri Mantra is the only mantra which is not a Prayoga Mantra. It is being chant for the well being and cannot be used for any other purpose.
During upanayanam, it is being ordered to chant the Gayathri Mantra atleast 108 times a day. (But 1008 times chanting of gayathri is the best)
Gayatri mantra upadesam usually done on Upanayanam day for Brahmins. Only during this upadesam mother (female) is allowed. (No other mantras generally not taught to females earlier).
Hindu reform movements spread the practice of the mantra to include women and all castes and not gayatri mantra is used by all.
Gayathri Mantra in various Indian Languages. (kindly let me know if it is wrong)
Gayathri Mantra in English

Gayathri Mantra in Sanskrit

Gayathri Mantra in Hindi

om bhūr bhuvah svah

ॐ भूर्भुवः॒ स्वः॒

ॐ भूर्भुवः स्वः

tát savitúr váren

yam

तत्स॑वितुर्वरे॑ण्यम्

तत्सवितुर्वरेण्यं

bhárgo devásya dhīmahi

भ॒र्गो॑ दे॒वस्य॑ धीमहि।

भर्गो देवस्यः धीमहि

dhíyo yó nah pracodáyāt

धियो॒ यो नः॑ प्रचो॒दया॑त्॥

धियो यो नः प्रचोदयात्

Gayathri Mantra in Tamil

Gayathri Mantra in Marathi

Gayathri Mantra in Gujarati

ஓம் பூர்  புவஹ் ஸ்வாஹ்

ॐ भूर्भूवः स्वः 

ૐ – પ્રાથમિક ધ્વનિ, ઈશ્વર

தத் சவிதூர் வரேணியம்

तत्सवितुर्वरेण्यं 

ભૂ: – પદાર્થ અને ઊર્જા

பர்கோ தேவஸ்ய தீமஹி  

भर्गो देवस्य धीमहि 

ભુવ: – અંતરિક્ષ

தியோ  யோந    ப்ரசோதயாத் 

धीयो यो नः प्रचोदयात्।

સ્વ: – આત્મા
 Gayatri mantra consists of 24 syllables starting from "Tat savitur… prachodayat". The first sentence, bhur Bhuvah Svah is known as Mahavyahriti (Great Utterence) and the OM is prefixed as prescribed in Taittriya Aranyaka for all the mantras.
Gayatri Mantra – Akshara – Meaning – Rishi – Chandas – Devatha – Tatvam –
Sakthi – Mudra – Colour – Nyasam – Dyanam – Benefit
Akshara-Meaning
Rishi
Chandas
Devatha
Tatvam
Sakthi
Mudra*
Colour
Nyasam
Dyanam
Benefit
1
'tat' – tapini – fruitfulness
Vamadeva
Gayatri
Agni
Earth
Vama devi
Sumukam
Shan bagam
Thumb (legs)
Trimurthi
Remove Curse
2
'sa' – saphaltaa – valor
Atri
Ushnik
Praja pathi
Water
Priya
Samputam
Black
Both wrist
Black
Remove punishment
3
'vi' – vishwa – perseverance
Vashista
Anushtup
Sowmya
Thejas
Sathya
Vithatham
Coral Red
Both Knees
Pingala
Remove papas
4
'tur' – tushti – welfare
Sukra
Bruhat
Esana
Vayu
Vishwa
Visthrutham
Spatikam
Below Knees
Indra Neela
Remove diseases
5
'va' – varad – yoga
Kanvar
Pankti
Savitra
Akasa
Bathra vilasani
Dvi mukham
Lotus
Both Thighs
Agni
Remove Garbha Hathi Dosha
6
're' – revatee – love
parasarar
Thristub
Aditya
Kantham
Prabha vathi
Tri mukham
Raising Sun
Kuhyam
Spatika
Removes effects of praying of ill gods
7
'nya' – sookshm – wealth
Viswamitra
Jagati
Bharhas bhatya
Rasam
Jaya
Chatur mukham
Conch
Bejam
Lightning
Wrongdoing to Guru vanish
8
'm' – gyaan – luster
Kapila
Athi Jagati
maithra varuna
Roopam
Shantha
Pancha mukham
Lotus Leaves
Hip
Nakshatra
Removes Purusha Hathi Dosh (cheating of husband)
9
'bhar' – bharga – protection
Sownaga
Sukvari
Pasu
Sparsam
Kantha
Shan mukham
Padma ragam (Burmese Rubi)
Navel
neela megam
Removes Brahma Hathi dosha
10
'go' – gomatee – wisdom
Yagna Valkya
Athi Sukvari
Aryama
Sound
Durga
Atho mukham
Indra Neelam
Stomach
Red
Removes doshas
11
'de' – devikaa – subjugation
Bharathwaj
Trithi:
Ganesa
Vak
Saras wathi
vyapakag nalikam
Pearl
Both Dhanams
Emerald
Removes curse by Females
12
'va' – varahi – allegiance
Jamadagni
Athi Trithi:
Dwasta
Hand
Vithruma
Shakta mukham
Kumkum
Right Chest
White
Removes curse by teachers
13
'sya' – sinhanee – determination
Gowthama
Vrat
Yousha
Upastam
Visala
yama paasham
Black
Left Chest
Yellow
Removes Papas
14
'dhi' – dhyaan – life
Muthkala
Parasthara
Indragni
Anus
Esha
grathi tham
Red
Neck
Sandal
Remove papa to parents
15
'ma' – maryaadaa – time
Vyasa
Pankti
Vayu
Leg
Vyapini
summukon mukham
Vaiduryam (Cat's Eye)
Face
Padma ragam (Burmese Rubi)
Removes Dosha from Purva Janma (earlier generations)
16
'hi' – sphutaa – penance
Lhomasa
Kruthi:
Vama deva
Ears
Vimala
Vilambham
Honey
Both Cheeks
Conch
Removes all papas
17
'dhi' – medhaa – forecast
Agastya
Prakruthi:
Maitra varuna
Skin
Thamo harini
mushtikam
Turmeric
Nose
White
Removes papa due to ill treatment to animals
18
'yo' – yogamaayaa – alertness
Kousika
Akruthi:
Viswe deva
Eye
Sushma
Matsaya ham
Milk
Both Eyes
Red
removes papa of getting Dhaan
19
'yo' – yoginee – production
Vathsa
Vikruthi:
Mathruka
Tongue
Visva yoni
Koormam
Surya Gandhi (Sunflower)
Eye brows
Golden
Removes all papas
20
'nah' – dhanin – protection
Pulasthya
Sankruthi:
Vishnu
Nose
Jayavasa
Varaham
Green
fore head
Rising Sun
Can go to Heaven
21
'pra' – prabhaav – idealism
Mandooka
Akshara Pankthi
Vasu
Mind
Padmalaya
Simha kraantham
Lotus
Mouth
Neeloth bhavam
Can go to Brahama loka
22
'cho' – ooshmaa – adventure
Durvasa
Pu
Ruthra
Ahang kara
Parashoba
maha kraantham
Thazhambu (Screw Pine)
Leftside of mouth
Korosanai
Can go to Vishnu loka
23
'da' – drishya – discrimination
Naratha
Bhuv:
Kubera
Mahat Satva Rajas
Bhatra
mudh garam
Jasmine
rightside of mouth
Conch
Can go to shiva loka
24
'at' – niranjan – service
Kasyapa
Jyotish
Aswathi
Tamas
Triyata
pallavam
Arali (Oleander)
Head
Brahma
Can see trimurthi
*
* Mudhrapradarshanam:
Sumukham samputam chaiva Vithatham visthrutham thatha Dvimukham thrimukham
chaiva Chatuhu panchamukham Punmukho dhomukham vyapakagnalikam Shakatam
yamapaasham cha grathitham cha summukonmukham Pralamrum mushtikam mathsyaha
kurmo varaahakam Simhakraantham mahakraantham mudhgaram pallavam tatha
Chaturvim shati mudra vai gayatriam supratishtiya Bhoo devasya sasmakam
dhiyo dharmadi gocharaha preren tasya yad bhargasya tad varenyanam upasmaye
Gurur brahma gurur vishnuhu gururdevo maheshwaraha gurur saakshaad
parambramha thasmysri gurave namaha
Keyword: Gayatri Mantra; Gayatri Mantra Akshara, Gayatri Mantra Meaning, Gayatri Mantra Rishi, Gayatri Mantra Chandas, Gayatri Mantra Devatha, Gayatri mantra Tatvam, Gayatri Mantra Colour, Gayatri Mantra Mudra, Gayatri mantra Nyasam, Gayatri Mantra Dhyanam, Gayatri Mantra Devi, Gayatri Mantra Benefit, Gayatri mantra in English, Gayatri Mantra in Tamil, Gayatri Mantra in Sanskrit, Gayatri Mantra in Hindi, Gayatri Mantra in Marathi, Gayatri Mantra in Guajarati, காயத்ரி மந்திரம் பலன்கள், காயத்ரி மந்திரம், காயத்ரி மந்திரம் பொருள், காயத்ரி மந்திரம் அர்த்தம், காயத்ரி, காயத்ரி மந்திரங்கள், காயத்ரி மந்திர மகிமை , காயத்ரி மந்திர உச்சரிப்பு , காயத்ரி மந்திர உச்சாடனம் , எத்தனை முறை காயத்ரி ஜபம் பண்ணவேண்டும்,
எத்தனை முறை காயத்ரி ஜபம் செய்ய வேண்டும்