Sani Gayatri – சனி காயத்ரி – sani Bhagwan Gayatri – Sanieswara Gayatri
Sani is for life, property, punish the wrongdoings and reward good deeds. A combination of straight-forward police & a strict judge.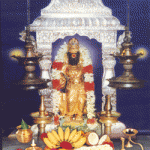 சனி காயத்ரி மந்திரம் – Sani Bhagwan Gayatri Mantra
சனி காயத்ரி
ஓம் காகத்வஜாய வித்மஹே
கட்க அஸ்தாய தீமஹி
தன்னோ மந்த ப்ரசோதயாத்

Sanishwara Gayatri (Gayatri for Saturn, Sani Gayatri)
Om kaakadhwajaaya vidmahae
khadga hastaaya dheemahi
tanno mandah: prachodayaat

Meaning: Om, Let me meditate on him who has crow in his flag,
Oh, He who has a sword in his hand, give me higher intellect,
And let Saneeswara illuminate my mind.
Click here to see Complete list of our Pooja details, purpose & the cost
Various Other Sani Gayatri Mantras
Om Ravisutaaya vidmahe
Mandagrahaaya dheemahi
tanno Sanih prachodayaat
ஓம் ரவிசுதாய வித்மஹே
மந்தக்ரஹாய தீமஹி
தன்னோ சனிஹ் ப்ரசோதயாத்
Om Kaakadhwajaaya vidhmahe
khadgahastaaya dheemahi
tanno Sanih prachodayaat
ஓம் காகத்வஜாய வித்மஹே
கட்கஹஸ்தாய தீமஹி
தன்னோ சனிஹ் ப்ரசோதயாத்
Om Vaivaswataaya vidmahe
Pangupaadaaya dheemahi
tanno Mandah prachodayaat
ஓம் வைவஸ்வதாய வித்மஹே
பங்கு பாதாய தீமஹி
தன்னோ மந்தஹ் ப்ரசோதயாத்
Om Saneeswaraaya vidmahe
Chaayaaputraaya dheemahe
tanno Sanih prachodayaat
ஓம் சனீஸ்வராய வித்மஹே
சாயாபுத்ராய தீமஹி
தன்னோ சனிஹ் ப்ரசோதயாத்
Om Chaturbhujaaya vidmahe
Dandahastaaya dheemahi
tanno Mandah prachodayaat
ஓம் சதுர்புஜாய வித்மஹே
தண்டஹஸ்தாய தீமஹி
தன்னோ மந்தஹ் ப்ரசோதயாத்
Keyword: சனி காயத்ரி மந்திரம், Sani Bhagwan Gayatri Mantra, சனி காயத்ரி, Sani Gayatri